The Time Saving, Spill Free System for Communion Preparation!
New Design in the works... a few old designs in stock
Revolutionary
Communion Prep
System
Fill Cups Directly from the Bottle
No Drips or Spillovers
Fits All Standard Juice Bottles
Set Up in 5 Minutes or Less
No Extra Bottles to Refill or Clean
Prepares 40 Cups Per Minute
Quick and Easy Cleanup


The Quick-R-Filler System is being updated and redesigned. We only have a few of the old units left so act fast if you are looking for the old design. To order or if you have questions contact Richard at the email or phone number provided on this page.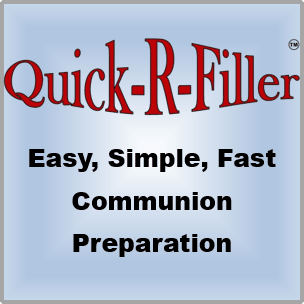 SPECIAL NOTICE, We are updating the design of the Quic-R-Filler system. Parts for our old design are no longer manufactured and we are using this opportunity to make the system even better. We only have a few of the old design available. If you are interested please contact Richard by phone or email. We hope our testing and redesign will be completed shortly, and thank you in advance for your patience. (Posted 1/5/2019).
330/429-2386 (Mobile) or 330/332-9009