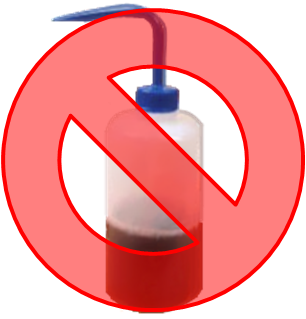 Now there is a faster, better way to fill communion cups! Why not save staff or volunteer time and use an easier and more efficient way to prepare for communion services. The revolutionary QUICK-R-FILLER™ will fill 40 communion cups in 60 seconds directly from an "off the shelf" juice bottle. No drips, no spills and no squeeze bottles or other containers to fill over and over again.
Save time and trouble with no secondary containers to clean up, no drips or spills to worry about... when you are finished filling just flush the Quick-R-Filler™ system with hot, soapy water and your done! Works with all standard "grocery aisle" juice bottles. Just screw on the adapter cap and place in the specially designed stand, press the button and fill. As easy as 1-2-3!
Easy to Use, Easy to Clean Up!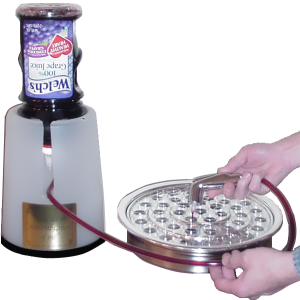 Each system comes with custom designed bottle stand, special bottle cap with attached hose and dispenser valve and complete instructions. The Quick-R-Filler™ system is sturdy, dependable, and made with FDA approved components that will last for years. Just click the "Order" link, and you will be able to use a credit card, a safe secure transaction through PayPal. (You DO NOT need a PayPal account to use this service.)If you prefer to use a check or money order send your name and shipping information with your payment to R&D Services, 1571 Maple Street, Salem, OH 44460.